3R – Recording & Replay System with Technical and Investigation Client
Audio, Video and Data Recording System (3R) is an open and modular solution based COTS HW components, and it is designed to record, replay and store audio, video & data recordings. 3R System operates continuously and is compliant with ICAO Annex 10, 11 and Doc 4444. Technical and Investigation Client (TIC) of 3R analyses, monitors and controls Recorders and Central Storage devices utilized by various users, e.g. ANSP´s Safety Department.
3R uses the following inputs:
Analogue voice channels (VCS Operator positions, ambient microphones, radio receivers, phone lines Q.23, POTS)
Digital voice channels (E1, ISDN, VoIP SIP, ED137B Vol. 4 compatible)
Data streams (System radar tracks in various formats, FDP data, CPDLC)
Video channels (ATCO screens recording VGA/DVI /DP (up to 2K x 2K), IP, CCTV camera recording)
Using our 3R system, you can benefit from shorter time of sharing of investigation files across the team, easy export of given sequences, Independent Data Display for surveillance data, and ability to select channels for online monitoring.
3R key features: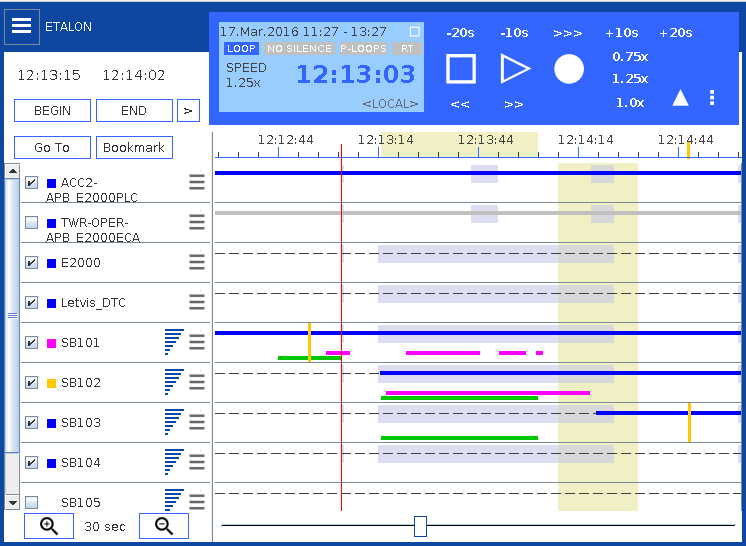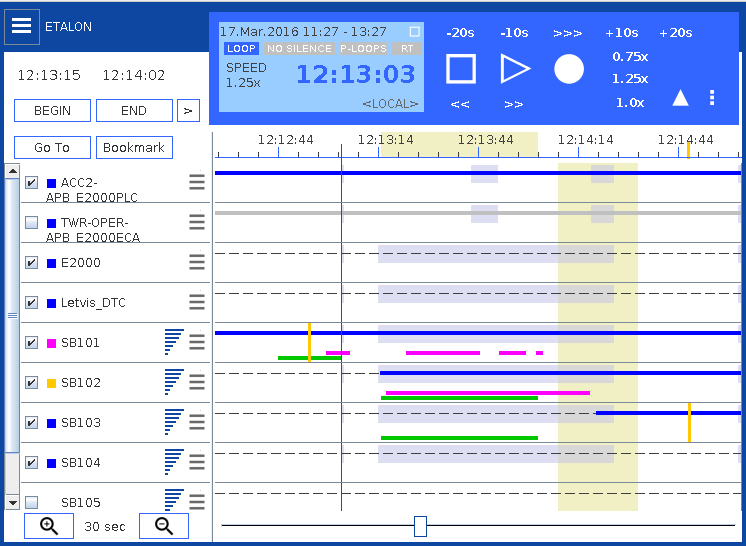 365/24/7 operation with continuous recording
Linux-based software
Multi-source, multi-channel
All server processes automatic initiated and run on the background after operational system booting
Configurable retention period (per recording device and/or per channel), records quarantine and locking support
Time and/or meta-data record search capability
Central system configuration with configuration archive/history support
Advance user profile management, user permissions and user activities log system
Built-in monitoring and diagnostics (status, notification, alert), SNMP support
Online monitoring of selected channels
NTP time synchronization
Basic and Advance export and archiving feature (HDD, USB, CD/DVD)
Unlimited storage, Main/Backup storage
Non-intrusive solution
Developed in compliance with ICAO Annex 10,11 and Doc 4444
3R Replay benefits: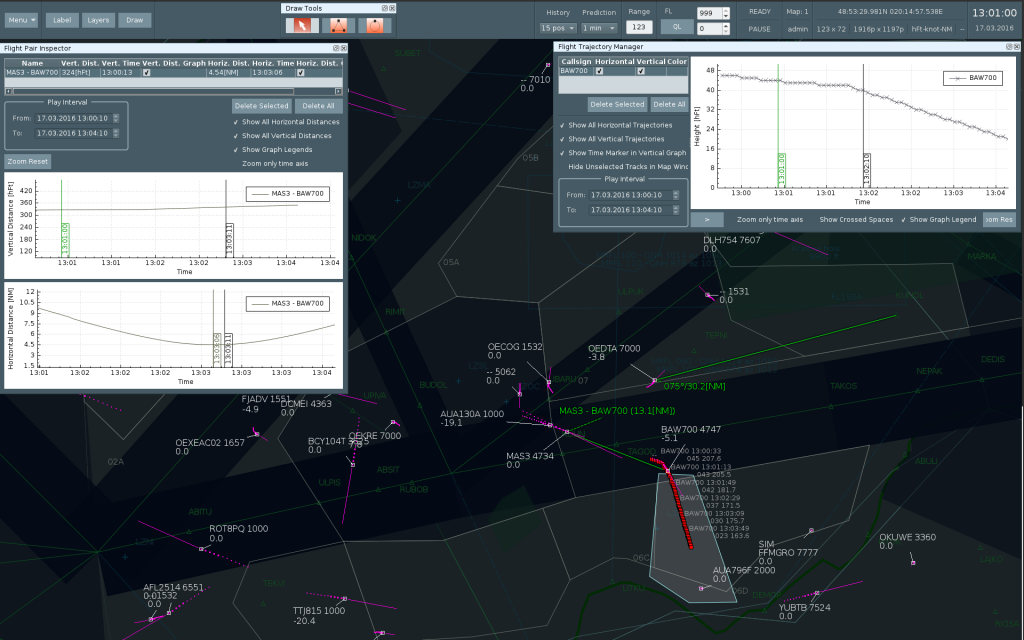 Project-oriented investigation
Radar Data Display (RDD) showing radar data from several sources without a necessity to replay the recordings in a native application
RDD able to process most ASTERIX versions (easy implementation of currently not supported versions)
RDD able to display a complete track history and analyze it in Pair Inspector and Trajectory Manager
Possibility to create a self-extracting video file containing selected multiple data (screens, audio) and embed it in the final investigation report
Export into self-executing file (OS independent, requires Java installation) containing an external player which displays data synchronized in time
Interactive recording transcription via automatic time stamps input which allows to move to the beginning/end of the transcribed recording
other functionalities – bookmark, loop, skip silence, GoTo, played slot, play speed, voice anonymize, dual channel name (technical/user friendly), search filters, channel group definition, conversation selection, project management, GUI full/compact view, real time/stopwatch selection, channel independent volume control, main menu/independent channel menu, etc.
3R Recording benefits: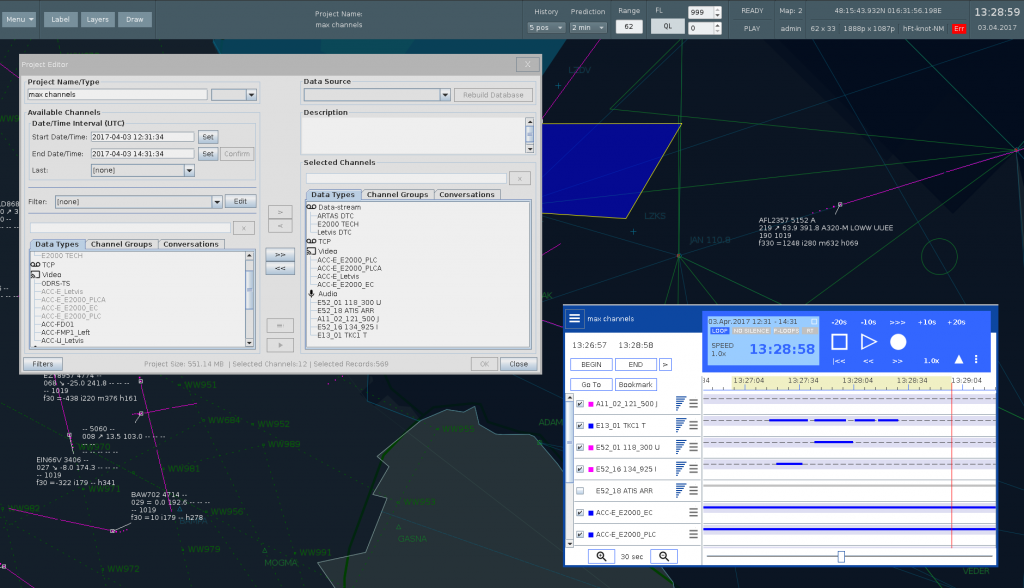 Store up to 20 million records/120 days
AN, E1/T1 (PRI, BRI) audio recording on decentralized link interfaces
VoIP SIP/RTP audio recording
VoIP ED137B audio recording including successfully completed "VOTER Eurocontrol" tests
At The Glass (ATG) video recording of data as seen on the screen
3R Central Monitoring System (CMS) key features: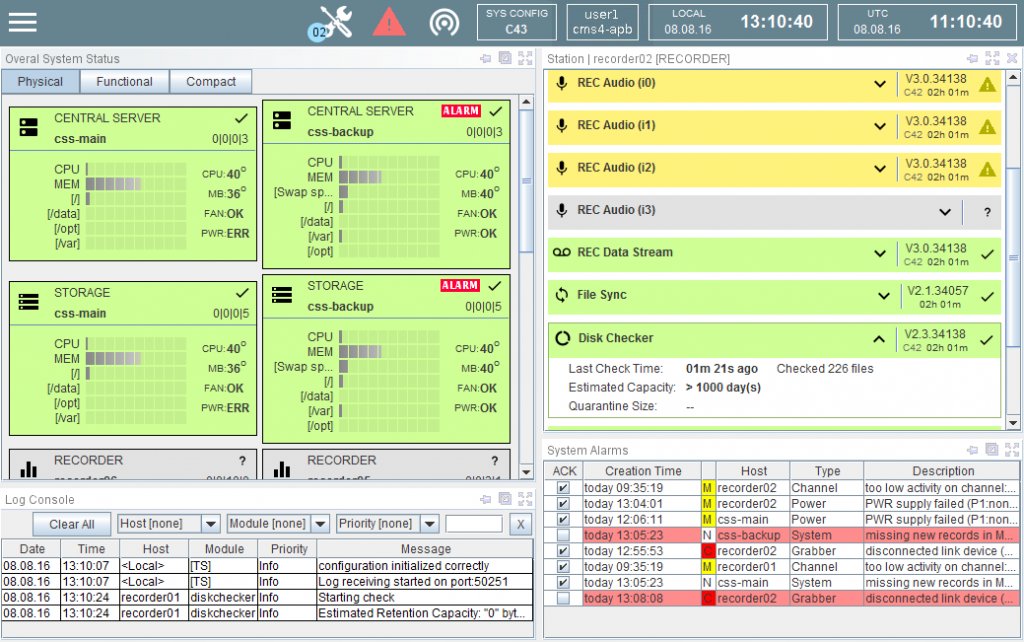 Monitoring and Control/Administration of all system components connected to SkyControl network
Remote monitoring, control and configuration of system modules and parameters
Reporting of HW and SW modules status and failures
User management support
SNMP support